Un tailandés ganador de los Mango fashion awards 2012
Isak Andic, presidente de Mango, proclamó ayer el nombre de Akarasantisook. El jóven diseñador asiático presentó una colección inspirada en los templos budistas. "Viví 4 años en París pero tras la muerte de mi padre regresé a Tailandia, por lo que me he inspirado en sus templos, analizando la relación entre la vida y la muerte con la naturaleza".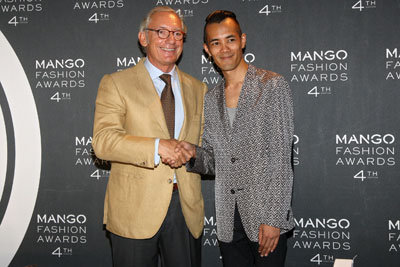 Isak Andic con Wisharawish Akarasantisook.
Entre los 10 finalistas se encuentran los españoles Spastor, la francesa
Christine Phung
, el duo japonés Takayuki Matsumoto, Haesung Bong, el belga Harvey Boutrese y el finlandés Toumas Haitien. Sus colecciones están expuestas desde el 23 de mayo hasta el 1 de junio, en 20 cubículos de metacrilato que adornan el Paseo de Gracia de Barcelona.
Personalidades del mundo de la moda internacional como
Kate Moss
, Laura Ponte, Géraldine Saglio, Bruna Casella y directivos de Mango formaron parte del jurado.
Los
Mango Fashion Awards
nacieron en noviembre de 2007 para potenciar la proyección internacional de los jóvenes diseñadores de moda. Cuenta con el respaldo, en calidad de co-organizadores, de 5 escuelas internacionales de diseño como
Saint Martins School
of Art and Design, Institut Français de la Mode, Istituto
Marangoni
, Royal Academy of Fine Arts y Escola Superior d eDisseny.
Copyright © 2022 FashionNetwork.com Todos los derechos reservados.